Comprehensive Financial Planning
---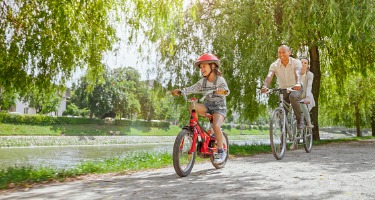 Because each client is unique, our planning process begins with a face-to-face discussion of your personal values, financial history and life goals. At this first meeting Douglas will share his financial planning philosophy and details about our services and fees. The purpose of the meeting is for both parties to determine whether we would be a good fit for a long-term wealth planning relationship. It's an important decision, so either one of us should feel entirely free to opt out.
If we decide we are a good fit, we will provide you with a written proposal and the paperwork necessary to begin the planning process. At that point, we would arrange a convenient meeting time so we can delve into the steps of the Financial Planning Process:
---
Financial Planning Process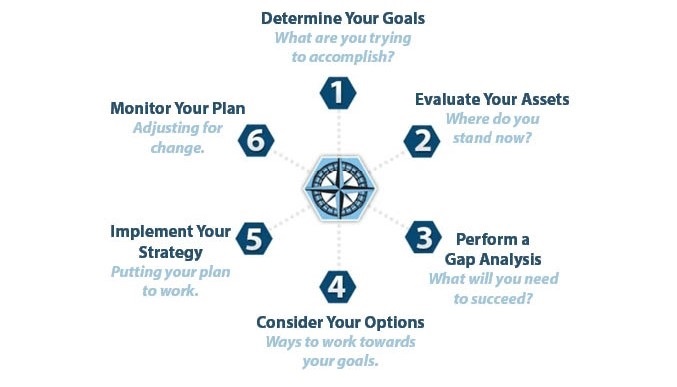 A Planning Process Centered on Your Goals and Values
1. Determine Your Goals
What are you trying to accomplish?
For most clients, planning their transition to retirement is a key goal. Other goals might include putting kids or grandkids through college, starting a business, or buying a second home.
2. Evaluate Your Assets
Where do you stand now?
It's important to begin with a clear understanding of your current circumstances, including earnings and pensions, business and partnership interests, real estate holdings, investment assets, cash flow and insurance coverage.
3. Perform a Gap Analysis
What will you need to succeed?
We'll also take a close look at any shortfalls or gaps that might prevent you from reaching your goals. These might include asset allocation imbalances, insufficient savings, inefficient tax strategies, or too much or too little investment risk.
4. Consider Your Options
Ways to work towards your goals.
Armed with a clear understanding of your resources, your current circumstances and your goals, we then put together a written comprehensive financial plan, along with a list of recommendations.
5. Implement Your Strategy
Putting your plan to work.
By this point, you know where you stand, your goals are now realistic and attainable, and your plans to work towards them are clear. From here, we implement your investment and tax strategies and take any necessary estate planning steps.
6. Monitor Your Plan
Adjusting for change.
Your financial plan is a living document. Many things can and will change over time. Because of the planning that's now in place, we can easily evaluate how a change might affect your chances of achieving your goals. As time goes on, we can stress test the impact of key variables to make sure you stay on track.
---
CONTACT US TO LEARN MORE ABOUT OUR PROCESS